Like Jean Anthelme would have put it "Tell me what you eat and I will tell you who you are."
And there ain't any living being who loves good food more than a Bengali.
In my few years of work and travel, I have met many many Bengalis and believe me that even a metro, non- Bengali type Bengali, who lives in a city outside West Bengal (Delhi, Mumbai, Chennai..), would surprise you with her love for FOOD.
What I love the most of Bengali food tradition is the central idea that

good food doesn't need an occasion. Good food is an occasion itself !

I am sure, right now when you are reading this blog, there must be
at least 50 feasts going on in and around Bengal.
While Bengalis love to eat, surprisingly there are very few Bengali cuisine restaurants in Delhi-NCR (and maybe in other cities as well). Apart from a handful like Oh! Calcutta in Nehru Place, Bong Appetit in Qutub Institutional Area, etc, which are a little on the expensive side, I couldnt find myself a good Bengali Meal. Alas !
Until very recently I came across Pet Puraan by Arghyadip Datta at DLF Phase 4 Gurgaon. Well, its a takeaway-cum-delivery kitchen which serves Bengali cuisine right at your doorstep.
So, out of curiosity and hope, I rushed to place my first order at Pet Puraan.
Menu: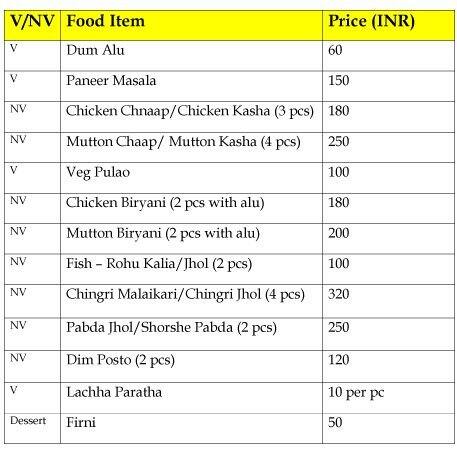 Unlike other restaurants, Pet Puraan doesn't have a 4-page z-fold over-hyped menu card. The menu is quite simple and to-the-point. (I kinda personally like people to keep things simple and focus on their expertise, rather than showing off 100 odd dishes with 50 letter-long names and overly complex definitions)
Yeah so, while the menu is short, I think it can be improved to make it a little more accommodating to multiple customer segments.
But nonetheless, the items are priced quite competitively.
Mutton Kasha
Mutton Kasha (pronounces as 'Kausha') is an authentic Bengali Mutton dish which goat meat and potatoes cooked in a thick spicy-sweet-tangy onion-ginger-garlic gravy with tomatoes & curd in mustard oil.
I must tell you, the Kasha was simply Brilliant ! From the moment I opened the box until I licked off the entire gravy from the foil, my colleagues just couldn't stop praising.
Well.... Mutton Kasha was an instant hit.
Portion size: Sufficient for 2

Mutton pieces: 4

Spice level: 2.5/5

Recommended combination : Mutton Kasha with Bengali style Laccha Paratha/ Luchi
Next up: Bengal-style Mutton Biryani
One of my colleagues in office had once told me the story behind the famous Bengali Mutton Biryani & why do they put aloo/potato in it.
Well, it started when the 10th & last nawab of Awadh- Wajid Ali Shah came to Kolkata - Metiabruz over 150 years ago, he had nothing left with him except Awadh's entertainers, dancers & kitchen secrets. The British had taken away his riches and wealth.
With limited means and resources, Wajid Shah was to feed his troop on what was their staple- Biryani.
Now, around the same time, Potatoes had been recently introduced by the British in North India. This made potatoes a great substitute to meat in the Biryani (As they added volume & carbohydrates at lower price).
This is how the Awadhi Biryani + Potatoes + Mustard Oil transformed into a delicious recipe of Bengali Biryani.
Yeah, so the Pet Puraan Mutton Biryani was no exception. Loaded with juicy mutton pieces and succulent whole potatoes, 1 plate biryani is a wholesome meal in itself.
Portion size: Sufficient for 1 if eating only Biryani

Mutton pieces: 2 big pieces

Spice level: 2.5/5

Recommended combination : Mutton Biryani with boiled egg
Now comes my favourite part of the order- the Phirni !
Did you think its a Rajasthani Dessert? Well, this Phirni by Pet Puraan is definitely a Bong one. With ample amount of Kesar and dry fruit seasoning, the phirni was a DELIGHT.
I think at a price of Rs 50, its a steal.
Well, there is more to try on the menu... So I am gonna be back with more reviews on this bong dong @
Pet Puraan